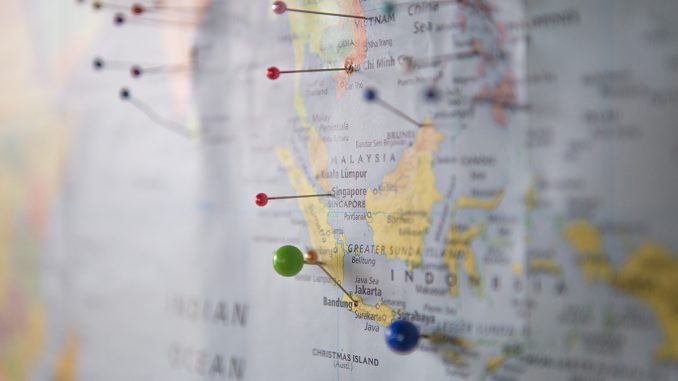 I realized something recently after I earned our latest bonus on some IHG cards. I enjoy collecting all of the hotel/airline/credit card rewards, but I am afraid to spend them. What if I don't get enough value? What if I run out? That was when I realized I might have a problem.
Collecting points is fun.  It lets you imagine all of the fun things you can do for free or for a major discount from just paying cash for a vacation or get away.  Then I was looking at how many points it would take to fly back at Christmas to visit family in the Midwest and freaked out. 
I spend all this time collecting points and it will cost 200,000 of them to fly four of us round trip in the US? It's not even to a beach destination. I know part of it is just being stingy, but it seems like the points are the most valuable for times when you don't need them!
American and United are my only real choices for our closest airport. I am thinking of driving to a larger city to make it a cheaper trip if that works out (also easier to get home with flight delays when there are more options- that last leg to a small airport is tough and limited). We could always use some of our hotel points to stay close to the hotel for an early flight if needed.
We might even be able to transfer Chase Ultimate Reward points to Southwest if it works out.  I am not sure of my points vs cash threshold yet, but I am thinking if tickets are more than $500 each (need 4), we may use all points.  I can always earn more right?
A More Normal Points Update
Circling back to reality, our latest card was the Starwood Preferred Guest American Express. We opened a bunch of cards in the late spring, so I had been laying low for a while. Too many credit inquiries is not good, plus Chase has been cracking down lately. I currently have the Costco AMEX, but with that being phased out in March 2016, I was looking for an AMEX card to add to the fold.
Right now all spending is going on to the Starwood AMEX except for the following:
Gas still goes on the Costco AMEX as it is a 3% rebate (at any gas station, not just Costco gas)
Cell phones and AT&T cable/internet goes on the Chas Ink card for the 5% points
The next travel expense or hotel would go on a Barclay Arrival Plus World Elite card to use the last $200 of its bonus
We haven't been utilizing the 5% quarterly rotating categories on the no fee Chase Freedom card- obviously we are missing out there!
As a side not about my new Starwood card, the points can be transferred to a ton of airlines like American and United, so it really helps us have back-up miles for those two airlines. Plus, you get a 5,000 point bonus for each 20,000 points you transfer. I like that bonus. But enough about that specific card, let's talk about my travel points and what goals I have for them.
I am not sure what card we will get next, but after the Starwood card bonus is earned, it will be our main Costco card. Regular spending would then probably shift to the Chase Sapphire Preferred card in the absence of a new one to earn a bonus. My wife might be due for a Starwood card next now that I think about it. Her score has actually gone up a lot in the last 2 years as I have opened cards for us, so she can easily get an AMEX now!
Also I switch from my to our and I to we a lot.  I hope that does not cause confusion.  The balances I refer to are combined for the two of us.  My wife gives the input on the destinations and I make sure we have the points and cash to pull it off. 
Plans for the Points- Update
Our biggest balance is in Marriott points.  I have mentioned in the past that we are looking at the Ritz in Grand Cayman Island for a hotel/air package.  Using the points for 7 days gets 1 day free AND gets 50,000 airline points.  In my opinion it is the best way to get value out of Marriott points.  At this point, we have enough for the room and probably a couple of flights.
On a side note: we did use some points in May to stay at the Ritz Carlton in downtown San Francisco and it was a great experience. The customer service might be the best I can remember for a hotel. Everyone was friendly, helpful, and paid special attention to our kids.
We also need to figure out the best way to get to Kansas around Christmas.  Our youngest turns 2 in early December, so now we have to buy 4 tickets instead of 3!  The Chase points can be moved to United and we have a lot of American points, too.  As I mentioned earlier, there is an outside chance we could convert to Southwest points and use a different airport as well.
I also want to take my wife to New York next year (2016). She has never been. We will definitely have the hotel rooms covered, but I need to figure out how to get flights covered if we will be using points for Christmas and the Caribbean (that is 8 round trip flights not counting the New York one).
Based on that, I need to focus on airline miles or cards that can covert to airline miles or reimburse tickets purchased on the cards. It will be sad that I only hit the million point mark briefly before having to use ~200k points for flights at Christmas (and not even get first class!).
Our current airline/hotel/credit card balances are below:
I don't really have any specific plans for the IHG points right now, but those might be useful for a nice stay during a NYC trip next year.  I was able to transfer 3,000 Chase points to IHG and get Spire Elite status thanks to a tip from Million Mile Secrets.  I also got 25,000 bonus points for reaching the tier.  I will be doing the same for my wife's account this week (3,000 Chase UR to get 25,000 extra IHG points is a no brainer right?).  It would probably be best to have a plan for points before you open a credit card, but it was a good offer and we jumped on it!  Edit: it worked and we now have 200,500 IHG points (and 4,000 less CHase Ulitmate Reward points).  That is an increase in value of about $120.
At least the Chase and Starwood points can be used in multiple ways depending on my plans. Maybe a Capital One or Citi Thank You should be our next card? I could book at least one of the flights on the Capital One card and not use any points or cash if the sign-up bonus is high enough.
I think the big question right now is do I want to clean out my balances to avoid airfare costs or try and make decisions based on cash costs to maximize point values?  The answer is probably somewhere in between, I just want to avoid having points expire!
As a final note, I don't have any referrals for any of the cards I mention. I point them out (along with how I use them) so people see real spending and how it works to try and amass lots of points. I don't go buy gift cards for churning purposes as I think that is more gaming the system. Please feel free to ask any questions or point out a strategy I am missing!